Rim Trail
After our days at Zion, we headed out to Bryce Canyon National Park. On the way out of Zion we stopped for a short and simple hike on the East Rim trail near the the East Entrance Ranger Station. We just set our watch for an hour, walked out, and then turned around to head back to the car. It was a sunny, glorious morning and the hike wasn't the same kind of spectacular as some others but it was really still quite stunning. And it was easy on elevation gain, something we had been craving after climbing both Angel's Landing and Observation Point.
After a nearly ~2 hour drive, we arrived at the zany spectacle that is the 'town' of Bryce Canyon. A hotel, some kitchy-looking tourist attractions, and a gas station (thankfully!). And then into the park!
Bryce Canyon NP has a rim trail that extends about 5.5 miles (in one direction) from Fairyland Point all the way to Bryce Point. Towards Bryce Point are the more popular lookouts of Sunrise, Sunset, and Inspiration Point. Parts of the trail are paved, and accordingly, are quite busy. But other parts are less crowded and still provide amazing views of the hoodoo-filled amphitheater. Because it was quite snowy, some sections of the Rim Trail were closed when we visited, and so we spent our time roaming back and forth between Bryce and Sunrise Points. We were in Bryce for two days and we must have walked 10 miles on this section, just back and forth each evening and morning. The views were really breathtaking.
On one of our morning walks, I completely flabbergasted a bus full of French tourists with my micro spikes. I bent over to take one off after exiting a snowy patch and before I knew it, they had surrounded me. At one point, a man picked up my other foot to show it to his friend. I know enough French to know they were genuinely excited but not enough to ask them to put my foot down. In the end, the whole thing was pretty entertaining. That said, if you go to Bryce in March. Pack your micro-spikes (or similar). You might even be thankful for snowshoes in early March or on some stretches of trail.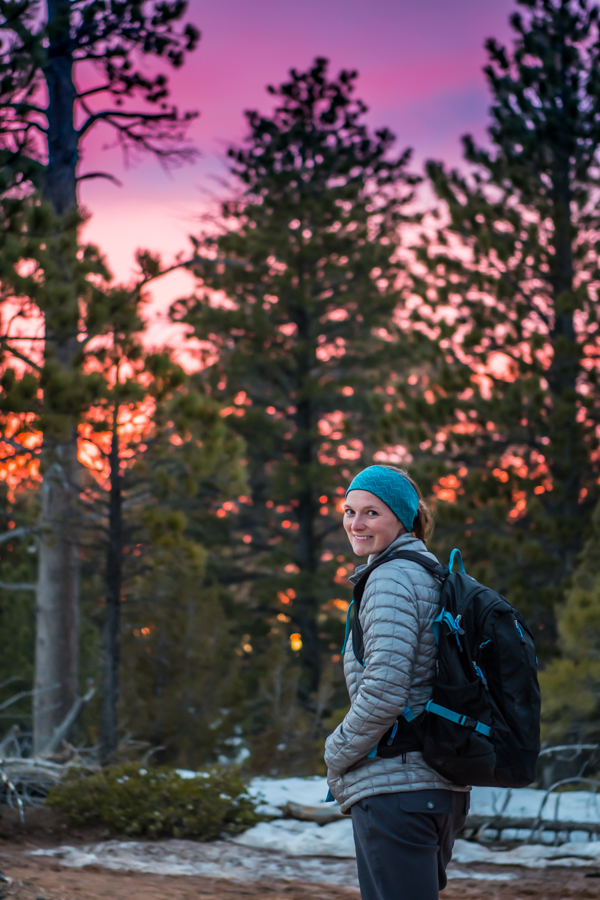 When did we go? We visited Bryce Canyon in early-mid March right as the temperatures were changing from winter to spring. Snow was lingering on the hoodoos (and on many sections of trail) but the park was generally accessible. It was a great time to be in the park!
Pro tip: Mid-march was a great time of year to go because we still got to see some of the snow but it wasn't completely bone-chilling. Still, it gets COLD up there, especially if you are sitting around and waiting for sunrise (or in our case, a moon rise). Pack hand warmers, layers, wind-proof outer layers, and as noted above, your micro-spikes for traversing snow.
Michelle vanDellen