A Zion & Bryce Spring Break Road Trip
One of the things I want to do through this site is give you an idea of how you can work a road trip. So I'll post both possible and real itineraries. Since I've been posting about Zion (and I'm getting ready to post about Bryce Canyon), I want to share our actual itinerary for driving, hiking, and sleeping.
We visited Zion & Bryce over spring break because some friends had invited us for a few days to ski at their condo in Solitude, Utah. To coordinate with the trip to Salt Lake, we decided to visit some Utah parks. A few summers back, we visited Arches & Canyonlands so for this trip, it made sense to see Zion & Bryce Canyon. This was both my and Kelly's first visit to these parks. We had an absolute blast. Here's what we did:
Day 1: Flew to Salt Lake City from ATL. We arrived at 1 am (3 am EST!) and contemplated an overnight drive down to Zion. As soon as we got our rental car, we changed plans and snagged a hotel room in Provo (south of Salt Lake City) for a short but wonderful night's sleep.
Day 2: We slept in due to the late night and then got going for Zion. This drive is straight down I-15. About an hour earlier than expected, we saw a sign for Zion National Park. Maybe it was a back entrance? We pulled over and discovered the Kolob Canyon region of the park. A five mile hike out & back to Double Alcove Arch along the Middle Fork of Taylor Creek gave us our first taste of wilderness for the trip. We drove out to the end of the road in Kolob and the turned around to finish the trip to Springdale and the main part of Zion. Kolob Canyon is off the beaten path and we were thankful our curiosity was peaked enough to check it out because it is a long drive from Springdale and we would have had a hard time making it back out there later.
That afternoon we got a late lunch and some groceries and then hiked the 1 mile Canyon Overlook trail.
Day 3: Angel's Landing! We were amped for this hike and wanted to get it done. A 5 am wake up call and we were on the trail before sunrise. Dawn broke just as we reached Scout's Landing. We took our time on the hike, enjoyed Angel's Landing all to ourselves for about 10 minutes, and then started back down. Beyond words amazing.
After Angel's Landing, we still had most of the day to explore. We hiked out to Emerald Pools (~2 miles) and drove down to the Narrows trailhead, walking out and back to the headwaters (~2 miles). After a late lunch, we packed a picnic dinner and hiked the Watchman Trail (another 2 miles).
Day 4: This day we hiked up to Observation Point and back (8 miles). We made tentative plans to rent wet-suits and shoes for the Narrows but after taking our time out at the point, we decided not to pursue the Narrows hike. Instead we got some lunch and took a short nap. Our guide book had a recommended hike near our rental and so we tried it out. Huber Wash was about a 4 mile hike through thick and sticky mud but it was awesome. We didn't see a single person and really enjoyed the change of pace. Later we asked some Park Rangers about some rocks we saw on the hike and they had no idea where we were. Definitely felt like a local. Finished the night with photos at sunset from the bridge looking over the Watchman.
Day 5: Early morning to shoot sunrise on the West Temple. Breakfast crepes and then a drive out to Bryce. We stopped for some exploration throughout the eastern region of Zion and hiked about 3 miles near the Cave Canyon trail just before exiting the park.
We drove straight into Bryce to get our bearing in that park and were instantly mesmerized by the views along the Rim Trail. After checking into our place in Tropic, Utah, we went back out to walk along the Rim Trail at sunset.
Day 6: Sunrise is infamous at Bryce. So an early morning start took us back to Sunrise Point. We shot for hours walking along the Rim Trail as the sun broke through the light and the canyon lit up. Eventually, we headed out to do the Peek-a-boo Loop (5.5 miles). The trail alternated between muddy and snowy. We were thankful for our micro-spikes.
After a resupply at our condo, we hiked out to Mossy Cave Falls along the northern rim of the park. We headed back to the rim and hiked a bit down the Navajo trail until we found a lookout we liked. We lingered to shoot the sunset and moon rise.
Day 7: A super early morning to catch the last stars and another sunrise at Bryce. Then we hit the road for Solitude. We got there just in time to finalize our ski rentals and schedule some lessons.
Day 8: Skiing in perfect Utah snow. Hanging out with friends and entertaining some adorable kiddos.
Day 9: A snowshoe excursion and late afternoon flight back to ATL.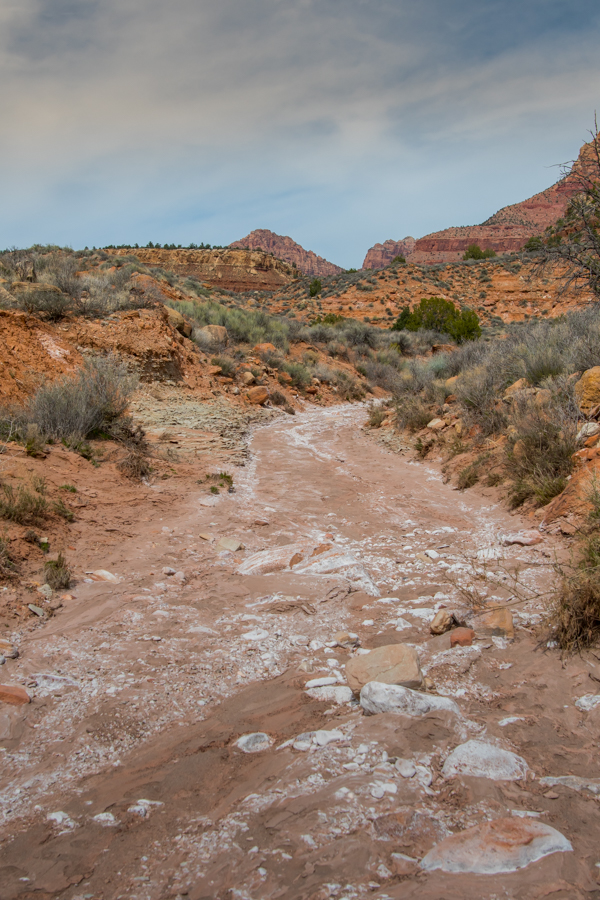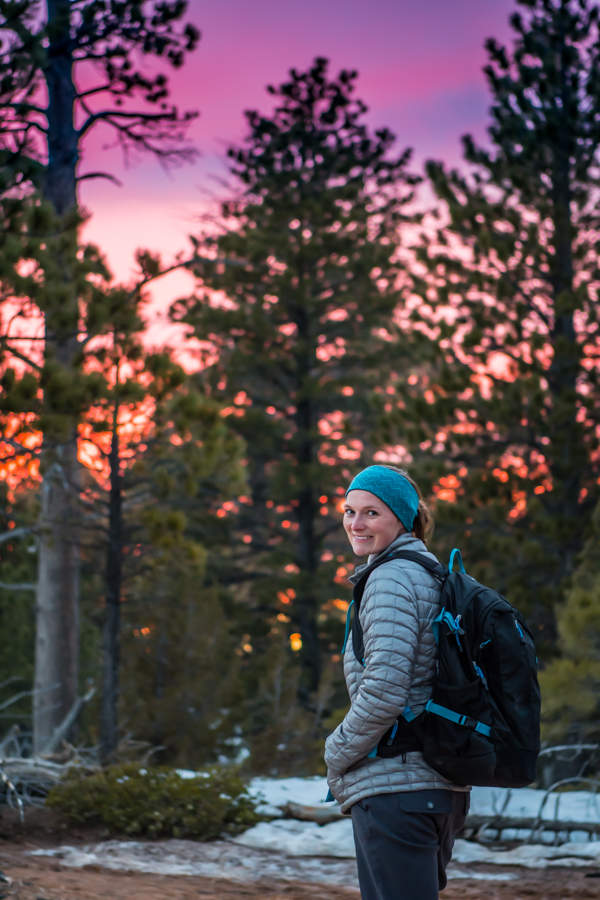 Tips we learned:
1) Pay attention to when the Zion shuttle opens for the year. If you can sneak in using your own vehicle, do!
2) Plan to stop by Kolob Canyon on your way to or from Zion. It is a real treasure and gives a break from the crowds in the main parts of Zion.
3) Don't forget about sunset at Bryce. Everyone loves sunrise but sunset was awesome, too.
4) If you're headed in winter/spring, pack micro-spikes (or similar) and warm winter clothing. Don't forget sunscreen and lip balm!
Michelle vanDellen