Road Trip Round Up
Q: How did you plan a route?
A: We decided a few years back to be intentional about trying to visit every National Park together. There are 60 of these, with about a dozen outside of the lower 48 states. The problem is, just about every time we visit a park, we end up concluding we want to go back.
We visited Glacier National Park in 2016 and as we talked about what to do this summer, a return trip there kept coming to the top of the list. So we first decided to make that our big trip destination, planning to spend about 10 nights there. The second step was to decide how long to be gone in total. Last summer, I found that right at the 1 month spot, I started to feel like I was falling behind at work. I can get things done ahead of time (submit papers, send draft to collaborators, etc) but eventually things catch up with me. That gave us ~20 days to work with.
Next, we mapped a route to and from Glacier. We wanted to return to Yellowstone and Tetons National Parks, as well as make stops at four new national Parks: Badlands and Wind Cave in South Dakota, Theodore Roosevelt in North Dakota, and Voyageurs in Minnesota. These parks then provided the skeleton for our trip. We made some tweaks to see friends and family in Lexington, KY, Minneapolis, MN, and Montevideo, MN (these friends & family also graciously provided housing and meals for us). Kelly added in a few destinations he wanted to photograph (e.g., High Trestle Trail in Iowa, Dead Indian Pass in Wyoming), and we made a few more modifications. Then, the day before we were leaving, we had some stormy weather pop up that made us re-route again. As a bonus, this last change confirmed our route through St. Louis so we could visit the newest National Park. You can see how our general route morphed as we added destinations below.
Q: Where did you sleep?
A: We spent 7 nights with friends/family, 8 nights in lodges in National Parks, 9 nights camping in National Parks (all in front-country campgrounds except for Voyageurs, which we reached by boat), and 8 nights in hotels. Having people willing to host us even if we arrived late or left early made a big difference in being able to extend our trip. Camping also saved us a TON of money, with the 9 nights of camping running us around the same price as the cost of one night in a hotel. Between camping & friends/family, we were able to turn what would have been a 17 day trip into a 32 day trip for about the same price.
Q: Do you hurt?
A: Miraculously, we did not struggle with injury on this trip. We started training in May to get our feet used to our hiking shoes and our legs used to elevation gain and mileage. Then on the trip, we monitored how we were feeling and alternated big and easy days. During our long week in Glacier, we started getting worn down because of many consecutive big days (this year, big day = more than 12 miles). Michelle's ankle started getting tender and Kelly's feet and knees started acting up. But a day or two of easy moving and we were feeling fine by the time we got to Theodore Roosevelt. We ended the trip with an 8 mile hike in the Smokies and felt great.
Q: What were your favorite places?
A: My (Michelle) favorite place is a toss-up between the high mountains along Going to the Sun Road and Grand Teton National Park. I (Kelly) liked lots of places. We saw amazing wildlife along the Specimen Ridge trail in Yellowstone and we took a hike in Theodore Roosevelt where we saw wild pronghorn running and a herd of buffalo. But Going to the Sun Road is always a big winner and this year we watched a lot of sunsets from up there.
Q: Why didn't I see your posts while you were traveling?
A: We had infrequent access to internet, and especially reliable internet, which made posting difficult. Kelly also made a conscious choice not to use his laptop while we were traveling. He edited some of his photos on his iPad and posted to his Instagram & our Facebook account. I posted a few times to the Drive Hike Repeat instagram feed. But we just weren't able to get out and explore while simultaneously processing all of our content. Now that we are home, we realized that we have ~19,500 photos plus over 40 time lapses to process (each time lapse = another 1,000 photos).
One thing I did try was to use the Stories feature on Instagram and Facebook to keep people up to date with some of our shenanigans. If you missed those, here is a smattering from our story feed.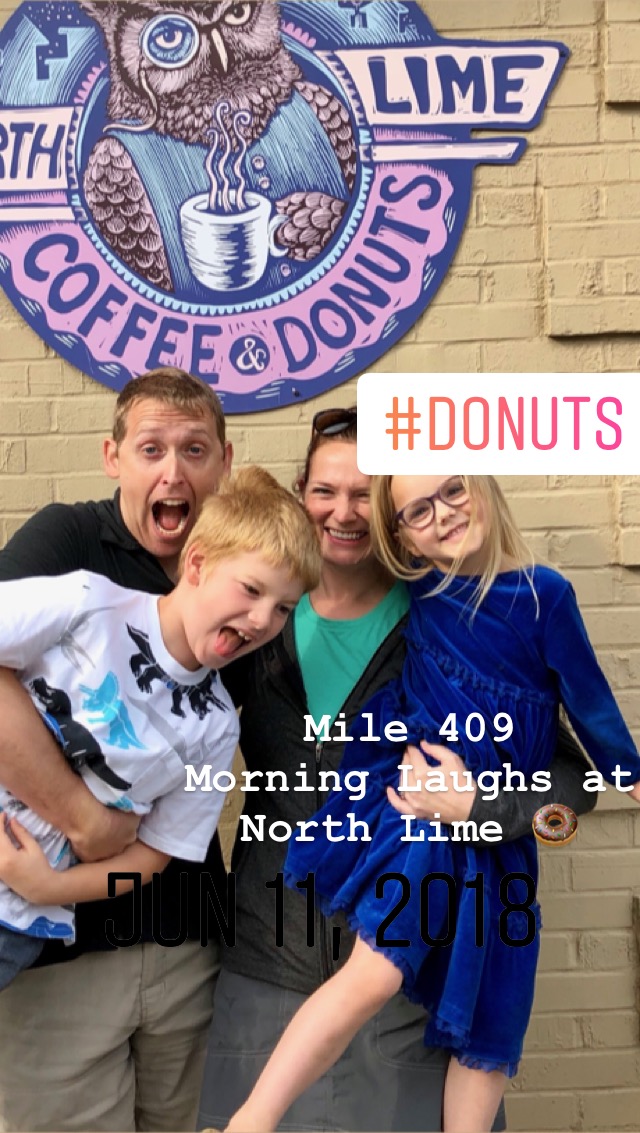 Q: What did you eat?
A: Our meal strategy is an apple a day, a lot of junk food, one late afternoon meal, and ice cream if we can find it. Breakfast is a muffin, granola bar, peanut butter crackers, or the like. Brunch is a combination of cheese, Snickers, cookies, or crackers. Linner is our big meal, usually in mid-afternoon after we are done with our main hike for the day. Restaurants are quiet around this time, we can usually eat off the lunch menu (saving $$), and the trails are busy. It's a win-win-win. Depending on the time of day we eat linner, we'll have something 'light' in the evening like cookies, an apple, another Snickers, etc. One of our go-to camping meals is boiling tortellini in our small camp stove and topping it with parmesan and spices. If we are far from real food, we'll usually pack this for a meal or two. Sometimes we splurge on good cheese from the deli (instead of cheese sticks or babybels) and get pita bread instead of crackers.
Michelle vanDellen